Team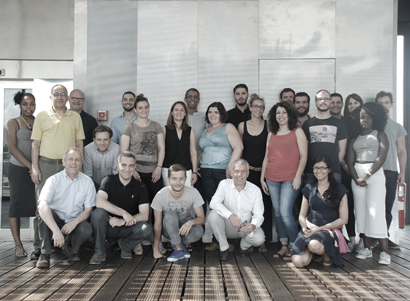 Founders
Founded by a team of engineers, Caloga is based on strong tecnhology.
Team
Our team is made up of 25 competent and enthusiastic young professionals, coming from 5 different countries and representing 6 languages. They make the success and the reputation of Caloga. And we are proud of them!
Commitments
CALOGA IS COMMITTED TO SEVERAL ENTITIES WICH GUARANTEE ETHICS OF OUR BUSINESS LINES.
Since its foundation, Caloga makes sure to respect the law, but also the web users : foundation of APMEL (whose goal is to regulate the email market practices), co-author of the CPA Email Charter, etc.
Here is the list of Caloga's commitments:
Member and funder of APMEL (Association pour la Protection de l'usage des Messages Électroniques à objet commercial)
Member of MAAWG (Message Anti Abuse Working Group)
Member of SNCD (Syndicat National de la Communication Directe)
Member of CPA (Collectif de la Performance et de l'Acquisition) and has signed the CPA Email Quality Charter
Caloga is labeled
Privacy Protection Pact
History
Founded in 2000, Caloga has gained a solid experience in emailing and data
2000
Founded by 5 engineers
2012
Caloga launches its activity on the bresilian market.
2015
Caloga starts emailing on the spanish market.
2004
Caloga starts its emailing activity, and develop specific skills in delivrability and data.
2013
Caloga launches its activity on the italian market and starts its sending offer for advertisors CRM.